Bruce is one of Australasia's most credible and best motivational speakers. He is a humorous and engaging storyteller, with remarkable stories to tell from 30 years as a high profile CEO. He will inspire your people to become better leaders, and improve the performance of your business.
One of the best motivational speakers today
"Inspiring. Entertaining. Engaging. Practical. Relevant. Credible." 
These are the words most often used to describe Bruce Cotterill as a speaker.
Bruce has made over 1,500 speeches and presentations at conferences, meetings and events in NZ, Australia, Asia, UK and USA. He is typically acknowledged as one of the best motivational speakers today. A truly inspirational speaker, he is rated as the top presenter at almost every event he participates in.
His presentations range from 45 minutes to 3 hours, and cover a range of subjects relating to improving performance in business and life.  Bruce's material is based on his own experiences as a leader, manager and even as a customer!  His presentations are highly interactive, and he is a master storyteller who uses real examples, humour and audience participation to ensure that his messages stay with people long after the interaction is over.
Examples of topics
Build A Better Business — with improved employee and customer experiences.
Your People Make The Difference — so treat them like they matter. Discover the 11 R's of People.
The Best Leaders Don't Shout — based on Bruce's book by the same title – communicate, communicate, communicate.
Leading Millennials — is easier than you think. You just need to understand them. Here's what they want, and how to get the best from them.
Built to Bounce — How to navigate change without losing your business/job, or your mind.
Customers For Life — is the dream for any business. It's important to know how to win customers, and keep them coming back.
The 7 Principles of Profit At Work —  inspiring you and your teams to focus on what you can control, and the SMALL stuff that makes a BIG difference.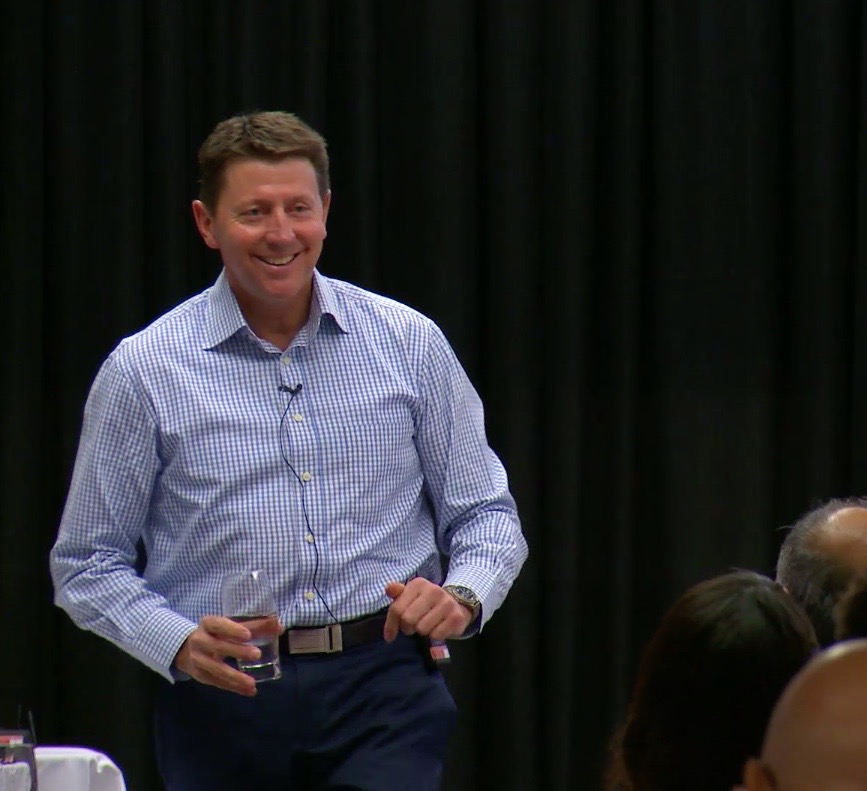 BRUCE'S Skill
Bruce's superpower, and what makes him one of the best motivational speakers is his ability to inspire and connect with his audience. They leave feeling motivated to go back to work, and put what they've learnt into action. He even invites his audience to stay in touch to tell him what they're doing differently, and how it's working for them – and they do.
As a master storyteller Bruce conveys powerful messages in plain language which are simple to understand, easy to apply, and extremely memorable.  He researches his audience, and wherever possible adapts his content to make it as meaningful and relevant as possible.
Bruce always arrives early and makes sure he gets a sense of the event, and the "mood of the room". He's frequently had to change his presentation at the last minute to 'rescue' events that were falling flat."
What do you want from your speaker?  Bruce delivers… 
Simple ideas and tools that you can use immediately
Inspiration and motivation
Smiles and laughter 
Relevance
Better business outcomes
So, if you're looking for one of the best motivational speakers available today – you've come to the right place.
Types of engagements
Keynote presentations
Leadership retreats
Offsite workshops
Half day interactive workshops
Full day interactive workshops
fees for public speaking
Bruce's speaking fees vary. Please contact us for for availability and fee structure.
Travel and expenses
Bruce travels economy throughout New Zealand and Australia, and Business Class beyond Australia and New Zealand. He stays in 4* or better accommodation. He has no special dietary requirements. All receipts will be provided within 30 days for expense reimbursement.
Additional information
Bruce usually requires a lapel mic, and will sometimes require screen and projector – situation dependent. He moves around a lot while speaking.
Audio and video recordings are almost always allowed
He likes to have a small table at the front to place his notes on
Bruce is happy to sign books
He will engage socially with the audience
Bruce will invite attendees to stay in touch with him, and offers to send them his notes
Does Bruce offer follow up coaching and support?
Bruce offers coaching support and services as required via associated coaches, webinars, online programmes, and communities. He very rarely offers 1:1 coaching himself due to extensive demands on his time.