Description
"The Best Leaders Don't Shout" is designed for busy leaders like you, who want an entertaining read which guides them to build better workplaces, with more engaged teams, and happier customers.
As a five time CEO, Bruce Cotterill has fought in the trenches. Every golden nugget is based on 30 years experience fixing broken businesses, and rebuilding shattered teams.
Bruce has no time for over-complication and bureaucracy. And he has even less time for anything that doesn't treat people with care and respect. He needed simple, effective, fast and human approaches to business improvement – and that's exactly what you'll find in this book.
Bruce's stories are entertaining, informative, and sometimes shocking. The book is a simple and jargon free guide to putting people first; and improving business performance when the world around you is anything but stable.
His various achievements include
Led real estate giant Colliers out of the 1990's property recession;
In six months took a single product from losing $600,000 per year to a $2.2 million profit;
Also led Kerry Packer's ACP Media, and iconic NZ company Canterbury International;
Oversaw the largest debt restructure in NZ corporate history – $1.8 billion at Yellow Pages Group;
Has made over 1,500 speeches and presentations in NZ, Australia, Asia, UK and USA.
Can you imagine being told in your first week that the company can't make payroll? What would be the first thing you would do? How would you navigate it? … Bruce recounts this experience, and many many more.
Have you ever had a book that you read once, and then referred back to time and time again? This is one of those books.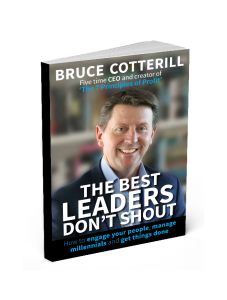 In "The Best Leaders Don't Shout" You Will Find
what defines a great leader – prologue
383 pages of experience and wisdom,
stories that will make you laugh, question, and squirm uncomfortably,
practical and amazingly simple tips, tools and templates ready for you to use
quotes to inspire you and your team,
ideas for topics to discuss in team meetings,
297 questions that will help you to become a better leader
the OPIAT – Bruce's 1 page planning template – (the foundation for a $190m business transformation)
… and so much more.
Within this stunning and easy to read book lies the answers to almost any situation that you could face as a leader today.
You might be a CEO looking for fresh ideas, or a middle manager looking to bring something extra to your role as you grow your career. Alternatively, you may be running your own business or looking to start one. Whatever team or organisation you are leading – there will be something here for you.
No wonder companies are buying copies for their entire management team. Now more than ever, we need great leaders. So don't just sit there – be entertained, be inspired, and be a better leader.
What People Are Saying
"I purchased the booked a few weeks ago in Queenstown and can't put it down – one of the best if not the best Leadership book I have ever read – Our company at present is investing so much time and energy into culture and leadership that I thought this book would be great to give out to the leaders in the organisation. We bought 30 copies." Aaron MacDonald – Group Fixed Operations Manager, Automotive Holdings Group Ltd 
"This is a very powerful book filled with laser-focused insights on how to lead an organisation to great success. It is one of the few business books I would consider a must read." John Spence – a top 100 business thought leader in America.
"For over three decades I have observed Bruce transition from successful office solutions salesperson to inspiring Stanford Business School trained CEO, Director and Chairman.  In "The Best Leaders Don't Shout" he now shares the lessons, insights and ideas, from his remarkable leadership journey.  I thoroughly recommend this book as compelling reading for any leader of business and people." Rick Ellis, Chief Executive, Chartered Accountants Australia and New Zealand
This book challenges the old adage  "leaders are born not made". Calling on his wide CEO experience Bruce provides an insightful and practical reference to the key elements of leadership. I would recommend it to any aspiring leader wishing to fast track their skills and career. Gary Gwynne, Founder Colenso, Founder Rodd & Gunn, Professional Director
Table of Contents
Introduction: It's time to start a conversation about good leadership
The Intentional CEO

A lifetime of learning
Where do you learn about leadership?
The role of the leader
The things we can control

Leading – The 7 Principles of Profit

The 7 Principles of Profit
Getting started – your first 30 days
Change – the leaders constant companion

"C" words to keep you on course

"C" word #1: Clarity
"C" word #2: Communication
"C" word #3: Consistency

The power of planning

Getting started: The most important question you will ever ask
Introducing OPIATs
Case study
Communicating the plan
Accountability
Postscript 1: Sample planning process
Postscript 2: OPIAT – customer experience
Postscript 3: OPIAT – health and safety

Culture, standards and values

Leadership drives culture
The "culture carrier"
Standards support culture
Values enable culture
Postscript: values

It's about the people, stupid

People make the difference
Personnel engagement
Getting the right people doing the right things right
11 "R" words – how to be better at managing people
Wander, observe, ask and listen – MBWA
Caring for your people
Motivation – what drives your team?
Postscript 1: People – how to get your people engaged
Postscript 2: People – how to conduct more effective performance reviews

Managing millennials

Postscript 1: 10 messages from millennials for their managers
Postscript 2: 10 messages from managers to millennials

 Leading you, leading me

Detail: Sweating the small stuff
Time: Maximising the minutes
Family: Go home
Postscript: Family

A question of leadership – 297 questions to help you become a better leader

Change
Leadership
Finance and the back office
Products and services
Sales and marketing
People
Customers
Sample questions for conducting a job interview
Sample questions for the person being interviewed
Order your copy now by clicking Add To Cart –
(and we'll send you a copy quick as a flash – usually sent within 1 working day)